Casamance
Casamance means the house of the chief or king , it is a region with a lot of diversity. Human wealth, joy, spontaneity of a people, exceed the borders of the African continent. The visitor will be captivated by the splendor of a wild nature, the smell of the earth and the bright colors. By a sun that bows every night to the horizon of the sea. It is the land of palm trees and rice fields, islands and mangroves, savanna and forest. It is the crossroad of cultures and beliefs to the rhythm of Ekoting, Diambadong, Bougarabou, Ekonkon, etc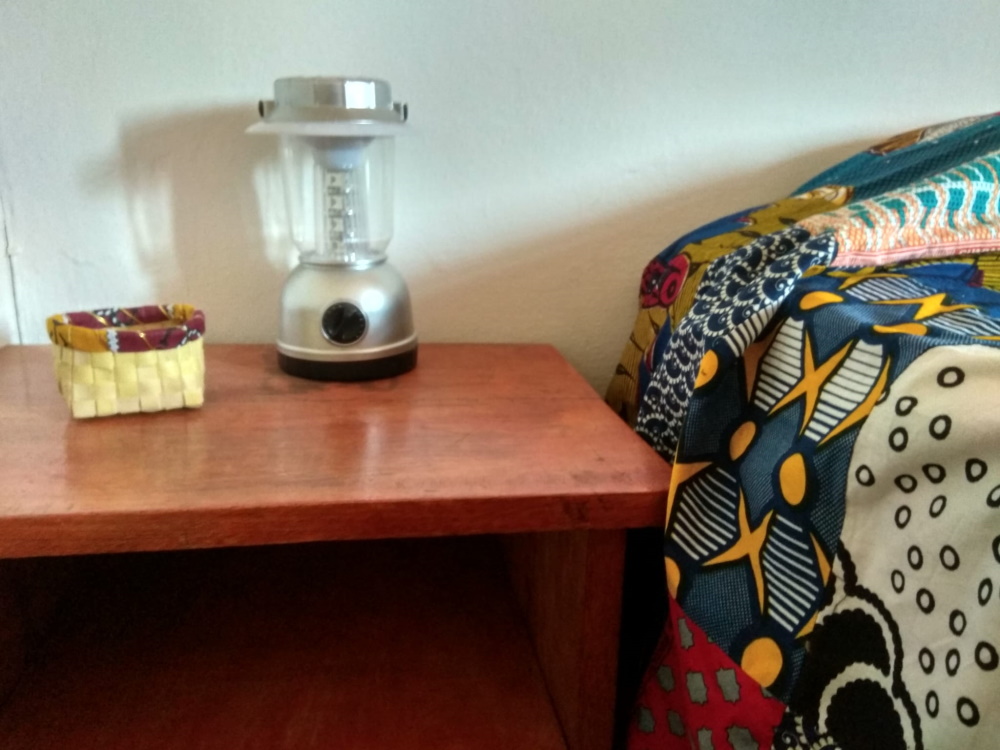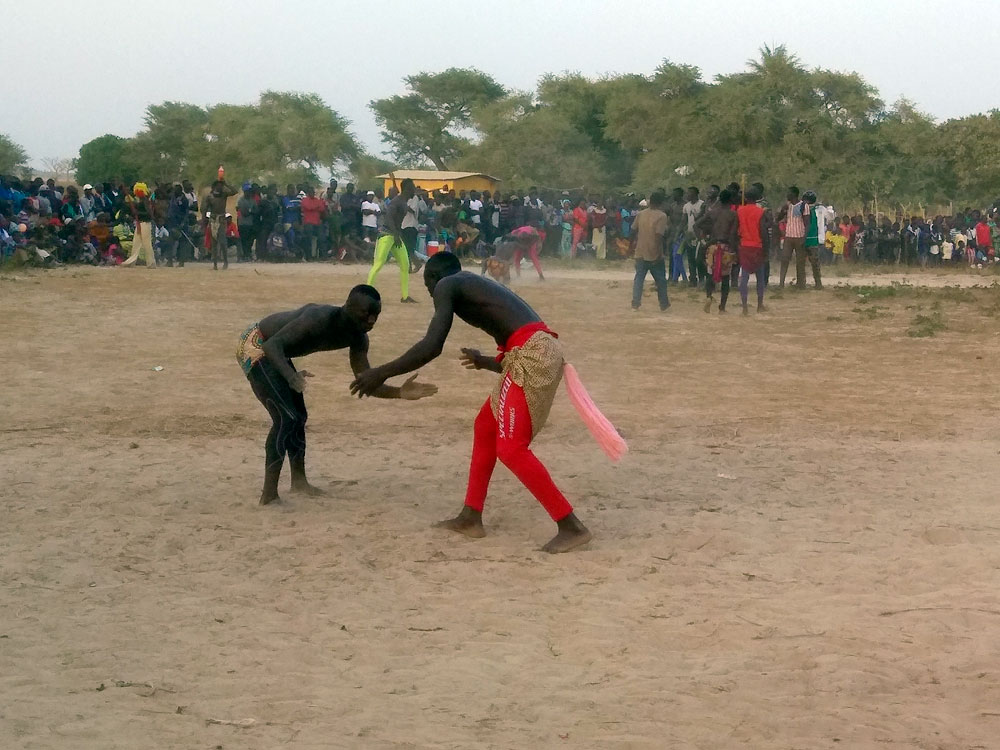 Oussouye
It is a small rural town located between the city of Ziguinchor and Cap Skirring, on the Atlantic coast. It is also the town where you have to change from 7place (popular taxi) on the way to Mlomp or Elinkine (small port of departure to the islands). With a strong diola and animist tradition, many ceremonies are held which will leave no one indifferent!
One of the main tourist attractions is the visit to the king of Oussouye but we also recommend visiting the fruit, vegetable and fish market or strolling through the palm forest until you reach Edioungou, a town famous for its pottery and its handmade mango, lemon, strawberry, etc ice cream.
The Casamance region is very flat, so we also recommend that you contact the Casamance VTT that organizes bicycle tours.
About us
We are a couple formed by a Catalan and a Senegalese (Cristina&Bakary), accompanied at all times by our dog Asembe.
Since 2 years ago we are settled in a town house that, little by little, we have been renovating to make it our home.
Bakary works as a taxi driver or private driver and can take you wherever you need: on an excursion, to the beach or back to the airport.
I will prepare your breakfast every day and I will try to make your stay in our home as comfortable as possible and if you want I can suggest you multiple excursions to do or even organize them for you.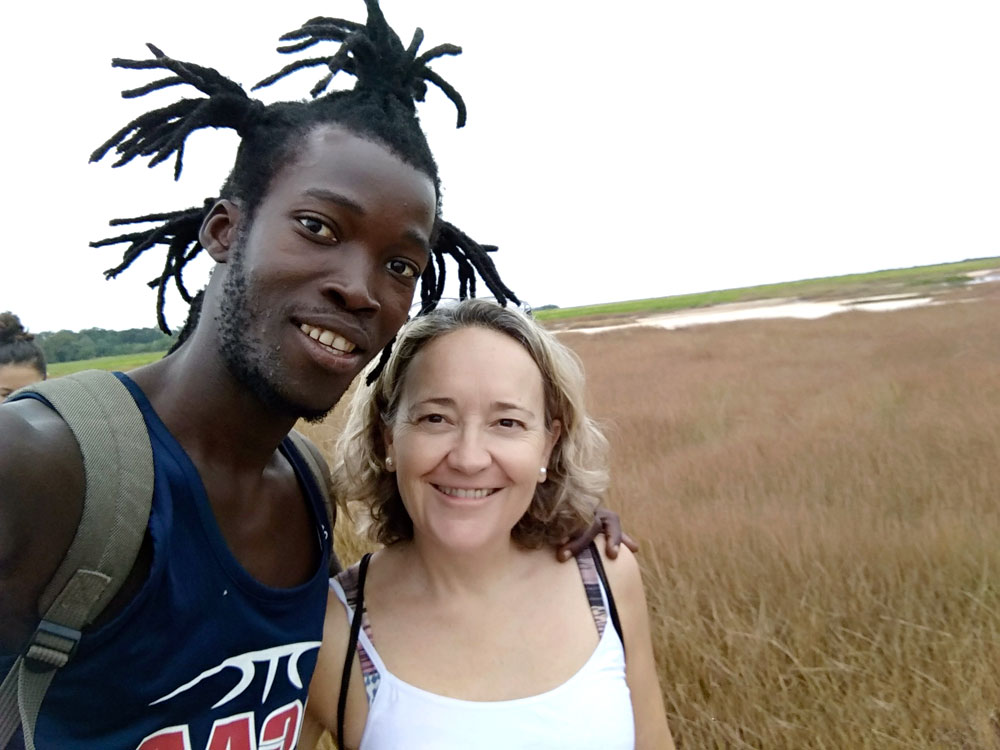 Bed & Breakfast IN Oussouye
THE HOUSE
House in the town center with three bedrooms, two of them for guests. All rooms are exterior with mosquito nets on the windows and have a double bed with mosquito net, wardrobe and fan for the hot nights.Our guests have a private bathroom: newly renovated facility located outside the house. The bathroom has a toilet and a shower with hot water.
In the house there is also a TV room available to our customers.
We have a large patio where we make life, in the shadow of a mango, papaya and lemon trees and a tree that gives us some very good avocados.
BREAKFAST
We usually have breakfast in the patio, with the sound of the many birds that nest in the trees at home. We will make a simple but good breakfast. I will buy the bread every day at the village boulangerie and we can accompany it with chocolate cream (the famous Senegalese chocopain ) or natural jam made in the cooperative of peasant women of Oussouye. Milk, coffee or tea will complete breakfast together with seasonal fruit (bananas, papaya, watermelon, ...)
ROOM

PrivATE

 

AREA

Casamance

Senegal

NUMBER OF

ROOMs

2

NUMBER OF

BaTHs

1

Total

PatiO

 

pUBLIC PARKING

FROM 50m

FREE
How to get there
From Ziguinchor take a 7place (popular taxi) to the Oussouye car station. Once there you
can call me or send me a whatsapp and we will pick you up and bring you home.
We can also pick you up at Banjul airport (*see rates for private taxi services)
Or if you dare here is the link on the Google map
At Oussouye you will find ...
 Beach
Oussouye is located only 30 km from Cap Skirring, a seaside tourist town where you will enjoy from kilometers of beach, bathe or surf in the waters of the Atlantic Ocean.
If you are one of those who prefer to bathe in the river, we are at 1.5 km from Edioungou where, if the tide allows it you can also bathe.
 Gastronomy
Senegalese cuisine is one of the best in the African continent. Every day, the Oussouye's market offers us a great variety of fish that you will find afterwards very well cooked in the different restaurants of the town. Always accompanied with rice (main ingredient to all dishes). Poulet au Yassa, Tieboudienne, Maffe are some of our favorite dishes.